Match attendance: 37,082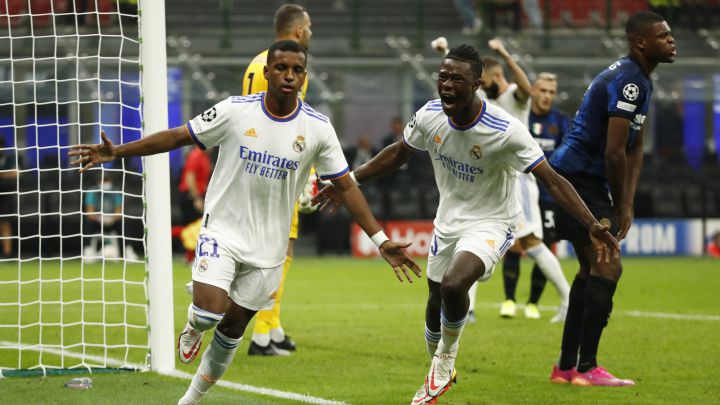 Inter Milan's misfortune against Real Madrid seems to endure throughout the years. The managerial change has not been able to put to an end to this negative trend. Since the day when Roberto Baggio and Brazilian great Ronaldo were hand in hand crushing Los Blancos in 1998, they have not been able to beat the thirteen-time title holder or even hold them to a draw. On matchday one of this year's UCL, they were beaten again by one goal to nil. Rodrygo's late goal was the only difference in this game. He flicked the ball into the back of the net in the 89th minute.
The man of the match in San Siro last night was none but Thibault Cortois. He was superior between the sticks and managed to save his net from conceding at least five times. Most of them came from Edin Dzeko. The former AS Roma man wasted most of the opportunities in front of the goal, some were denied by Cortois. His positioning and composure helped Madrid's confidence on the back line The game could have ended in a stalemate at least but the Belgian international had one of his best nights in the European fixtures. No wonder that he is still regarded as one of the best goalkeeper in the world today.
Find out more in details about Cortois's stats below:
Thibaut Courtois' Overview:
Rating: 8.06
Minutes played: 90
Pass accuracy %: 86.7
Touches: 42
Aerial duels won: 1
Clearances: 1
Clean Sheets: 1
Saves: 5
Claims: 1
The home side should have done better but the lack of prolific striker in his prime years, as Lukaku has the most impact in big games like this one, hurt them. Marcelo Brozovic, on the other hand, deserved to be applauded for his performance on the field. He was in charge of the attacking buildup as well as the first stance to stop Madrid's attack on the second line. His exceptional passing accuracy and touches was obvious. Unfortunately, the frontmen's clinical finishes were disappointing.
Check out more about Brozovic's stats below:
Marcelo Brozovic' Overview:
Rating: 7.05
Minutes played: 90
Pass accuracy %: 90.8
Shots (on target): 2 (0)
Dribbles: 1
Touches: 123
Key Passes: 1
Clearances: 1
MyMOTM have been named in the top 150 soccer blogs. Find out what they have to say about us.